upload the file directly in its original format
.json
, wherever you want (forum post attachment disabled) and paste it here. it is not allowed to have different format, even not compressed.
You find the profiles in your Vertex folder BotSettings, every file it is a different profile.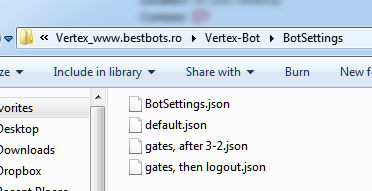 Requirements:
- direct link to the uploaded .json profile file
- a short description of the settings used, requirements, the company (EIC,MMO,VRU) OR/AND images
It is not allowed to post anything but profiles along with information needed.
Any of your sensitive data (user,password and license) its not saved in profile files, you are safe.
For other questions use
viewtopic.php?f=19&t=199
Please lets keep this thread clean.